Vector Network Analyzers for Measuring at 5G Frequencies
USB VNAs for all Bands of 5G
Many applications and industries are utilizing all 5G frequency bands. Copper Mountain Technologies offers various 1- and 2-port VNA options to cover lower frequency measurements and scalable frequency extension solutions for millimeter-wave measurements. Below you will find information about VNA measurement solutions for 5G applications in each frequency range.
To easily measure 5G SMD-sized mmWave components, the Automatic Fixture Removal plug-in can complement CMT's VNAs allowing for engineers to accurately de-embed fixture effects from VNA measurements. The AFR VNA software plug-in enables the measurement of a wide range of components through comprehensive methods tailored to specific fixture properties. The AFR software plug-in is easy to use and is compatible with all CMT 2- and 4-port Cobalt series VNAs up to 20 GHz and Compact series two-port, two-path VNAs up to 44 GHz.
1-Ports: The R60 Vector Network Analyzer (cable and antenna analyzer) delivers lab-grade performance in a handheld device. This patented (US Patent 9,291,657) analyzer can be connected directly to the antenna or other DUT without the need for a test cable, eliminating measurement uncertainties inherent to cables. Resulting in highly dependable performance and calibration stability. CMT's 1-Port VNAs come with all the features engineers have come to expect included standard in our software.
R60 VNA includes an RF measurement module and R software application that runs on Windows or Linux operating system on a PC, laptop, tablet, or x86 board computer connecting to the measurement hardware via USB interface. R software can be installed on multiple computers that share the use of the analyzer measurement module. The R60 network analyzer can be used in the field, in the laboratory, and in production testing. The VNA can be integrated into a production test system via Manufacturing Test plug-in.
2-Ports: CMT has several 2-Port Compact VNA offerings.
The S Series (S5065) delivers metrology-grade accuracy in a compact package suitable for both lab and field measurements. Software features such as linear/logarithmic sweeps with multiple trace formats, power sweeps, time domain and gating conversion, frequency offset mode, fixture simulation (embedding/de-embedding), 16 independent channels with up to 16 traces each, markers with marker search tools, and marker math, various conversion algorithms, and limit tests for pass/fail criteria, etc. all come standard in S Series VNAs.
The S5243 VNA covers frequency ranges from 10 MHz to 44 GHz which means all of the FR1 sub 6 GHz range and all FR2 bands, 26.5 to 43.5 GHz. This broad coverage in a compact unit, with 135 dB typical dynamic range, fast 22 µS per point measurement speed and replete with advanced analysis features such as Time Domain conversion and gating and frequency offset for mixer measurements make this a must-have for any 5G development lab.
The M Series M5065 delivers highly accurate measurements in a more economical package that excludes a number of advanced software features.
The SC Series SC5065 features advanced specifications while maintaining the compact form factor including the fastest measurement speed, widest dynamic range, and higher output power than the rest of CMT's Compact VNAs. The maximum feature set is included standard in all SC Series VNAs.
Unsure which Compact VNA is best for you? Check out our Compact VNA comparison here.
Multiport VNA Solutions to 9 GHz: The SN5090 is perfect for 5G MIMO and beam-steering characterization to 9 GHz. With power output of +10 dBm and typical Dynamic range of 140 dB, complex multichannel measurements are a breeze. All the advanced features you've come to expect from Copper Mountain Technologies now in 6, 8, 10, 12, 14 or 16 ports.
Countless applications utilize higher frequency mmWave bands in number of industries including medical, military and defense, automotive, IoT and consumer devices, and communications.
For K band, L band, M band, and W band frequencies, we have vector network analyzers that provide a scalable solution for millimeter-wave measurements. USB VNAs have low latency for measurements because the software and any necessary automation to support testing are all processed on one computer separate from the measurement module.
CMT's FET 1854 Frequency extension system makes measurements up to 54 GHz and can be anchored by a 9 GHz VNA which lowers the total cost of the system.
Compass Technologies has developed a table-top measurement system that utilizes CMT's S5243 VNA to characterize materials at 5G millimeter wave frequencies (20 to 40 GHz). Watch the on-demand webinar recording for an in-depth look at this measurement technique.
Because time-domain reflectometry (TDR) is a standard software feature with Copper Mountain Technologies' VNAs, it lowers the cost of the test system and makes testing mmWave frequencies much more simple and more affordable. For more information on Time Domain measurements watch this video.
CobaltFx Frequency Extension System for mmWave Measurements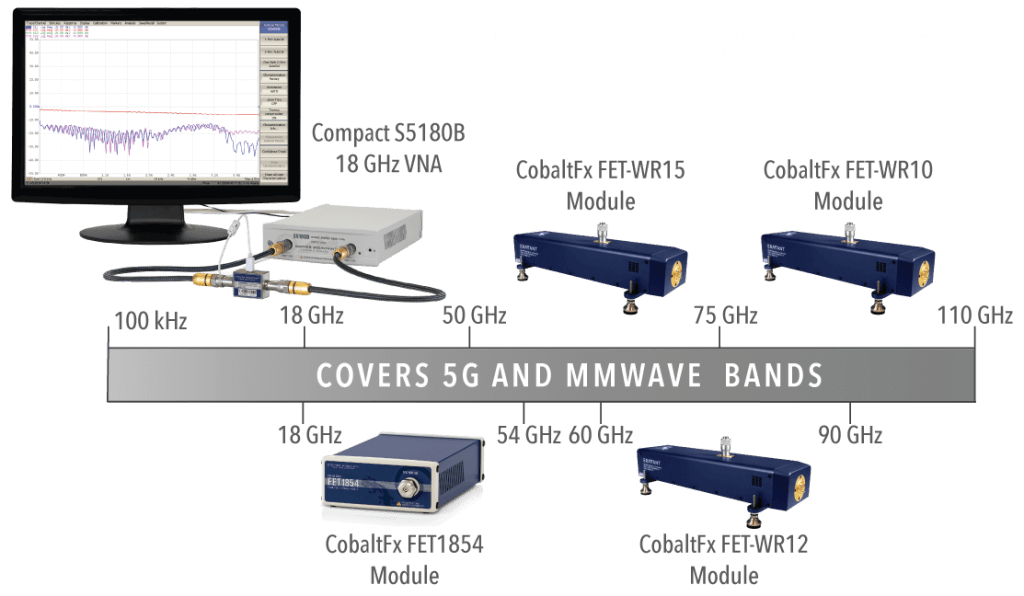 CobaltFx cost-effective millimeter-wave frequency extension system allows you to build a scalable and affordable 5G and mmWave testing solution anchored by a 9 GHz
Cobalt VNA
, offered with four extension frequency bands:
The system can be anchored by your choice of four vector network analyzers:
A CobaltFx system comes with all necessary standard length cables. The total cost of the system depends on the selected VNA. The extenders are packaged in small and versatile enclosures that allow for flexible port arrangements. The CobaltFx Frequency Extension System can be used in the field, in the laboratory, and in production testing for many applications.
In many cases, signal integrity is imperative in millimeter-wave testing. Learn tips for signal integrity and VNA measurements from this eBook made by Microwave Journal for CMT.
Dual Band Measurements with a 4-port VNA – The dual band measurement setup is ideal If you have a 4-port frequency extension compatible VNA and are working in an application that deals with multiple frequency ranges. For example, some 5G applications deal in a low frequency band (below 6 GHz) as well as the mmWave frequency band. Read the App Note Here