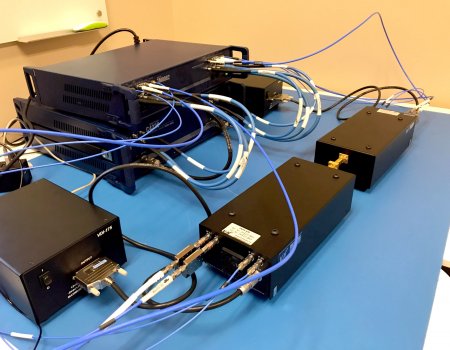 Videos
CobaltFx WR6.5 Frequency Extension Solution, 110-170 GHz with VDI Extender Modules
CobaltFx cost-effective millimeter wave frequency extension system allows you to build a scalable and affordable 5G testing solution.
Frequency Range: 110-170 GHz
Connector Type: Waveguide WR6.5
The system can be anchored by your choice of two vector network analyzers:
The total cost of the system depends on the selected VNA. Third-party extenders, including VDI extenders, only work with 20GHz CMT VNAs and require one booster kit for 2-port VNAs (C4220) and two booster kits for 4-port VNAs (C4420). The extenders are packaged in small and versatile enclosures that allow for flexible port arrangements. VDI extenders can be purchased from CMT or VDI.
- Frequency range: 110 GHz to 170 GHz
- Effective Directivity: 30 dB
- Dynamic range: 117 dB
- Impedance: 50 Ohm
The system can be used for a variety of applications including antenna range measurements, material characterization, wafer s-parameter measurements, automotive radar & sensor testing, etc.
If you want to consult with our engineers about your specific application, please Ask an Engineer.