The SC7540 joins the Compact series as CMT's highest performance 75 Ohm VNA, capable of measurements from 100kHZ – 4GHz. Featuring a 24 us per point measurement speed, 135 dB dynamic range, and up to 100 kHz IFBW, the SC7540 delivers 75 Ohm testing capabilities with improved speed and performance without the need for matching/conversion pads. The SC7540 is CMT's effort to provide a simpler setup and lower total cost for 75 Ohm measurements.

ACM2708 is a 75 Ohm calibration module up to 8 GHz for use with native 75 Ohm VNAs, including the SC7540. This automatic calibration module can also be used with CMT's 8 GHz VNAs and 8 GHz 50 to 75 Ohm matching pads. This enables automatic calibration when using 50 Ohm VNAs with matching pads or physical adapters for 75 Ohm measurements.
Field Measurement of an Antenna with a Vector Network Analyzer
Presented by Brian Walker – Design Engineering Manager, CMT
Wednesday, May 26th  12:50-1:40pm EDT
It is often necessary to determine the performance characteristics of an antenna in the field. A Vector Network Analyzer (VNA) may be used for this purpose. The two channels of the VNA can easily compare the responses between an antenna under test and a reference antenna. The measurement setup will be described, and the mathematics required to calculate the ratio of the two responses will be shown.
Power Integrity Assessment and Optimization in the Frequency Domain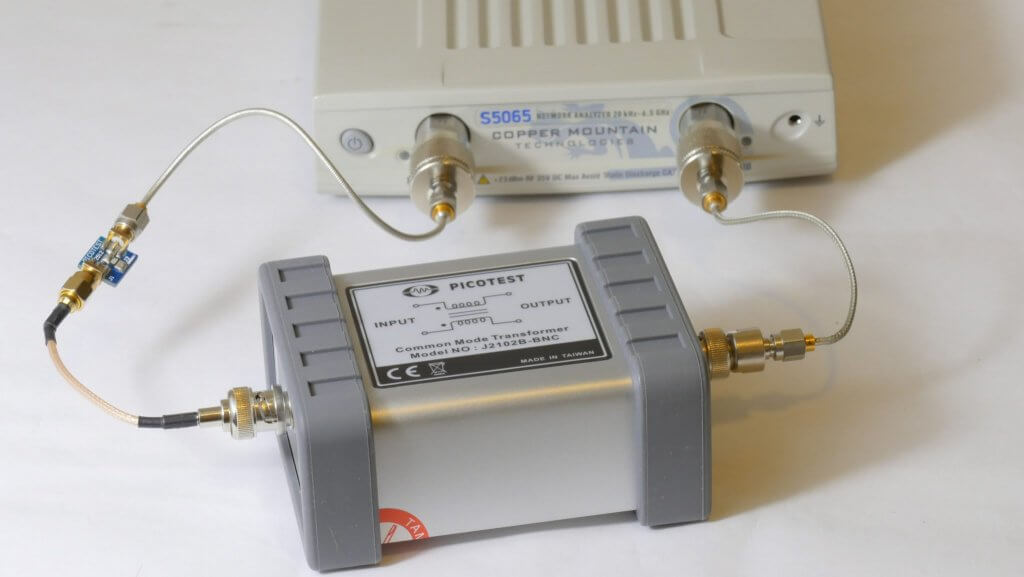 Presented by S.M. Sandler – Picotest
Thursday, May 27th 10-11am EDT
Power Integrity (PI) has become the weak link in RF, Microwave, High-Speed Digital and Analog circuits.  Often the most significant contributor to phase noise (and jitter), SNR (and ENOB) and EMI, engineers are increasingly pressured to evaluate the Power Distribution Network (PDN), which includes the power supply (or supplies), power planes, decoupling capacitors, ferrite beads and inductors.
This demo is done using the soon to be released S5243 2-port 44 GHz Compact VNA. Frequency offset measurement capability is standard on all Copper Mountain Technologies two and four-port VNAs. This allows an engineer to measure the return loss and conversion loss of a mixer. The auxiliary source available on all four-port models can be used to drive the LO port making this measurement very easy to set up.




CMT's University Kit is a complete solution (VNA, calibration module, DUTs, and related accessories) designed to assist educational institutions as they teach RF skills to engineering students. The University Kit combines RF theory with a robust hands-on VNA experience. This demo will showcase some of the measurement experiences you will be able to provide to your students with the University Kit solution. 

Copper Mountain Technologies develops innovative RF test and measurement solutions for engineers worldwide. Our development and production teams create solutions that enable RF and Microwave engineers to extend their reach through access to lab-grade instruments at affordable prices.  Our world-class metrology and engineering resources work as an extension of your team. Copper Mountain Technologies is based in Indianapolis, IN, with sales offices in Singapore, London, and Miami.
Copper Mountain Technologies provides vector network analyzers for thousands of clients in close to 100 countries around the world. Our VNAs include an RF measurement module and a software application that runs on an external PC laptop or tablet, and connects to the measurement hardware via USB interface. Users can take advantage of the latest operating systems, processing power, larger displays, and reliable performance of an external PC while realizing a lower total cost of ownership and simplified maintenance. The result is a faster, more effective test process that fits into the modern workspace.