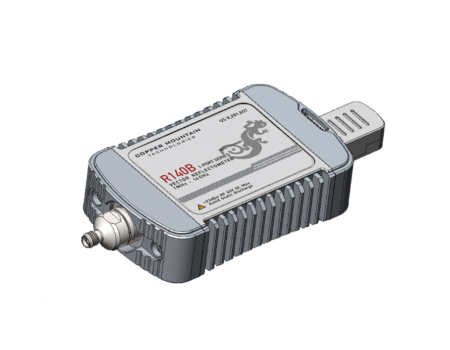 R140B 1-Port 14 GHz Analyzer
R140B 1-Port 14 GHz Vector Network Analyzer (cable and antenna analyzer) delivers lab grade performance in a handheld device. This patented (US Patent 9,291,657) analyzer can be connected directly to the antenna or other DUT without the need for a test cable, eliminating measurement uncertainties inherent to cables. Resulting in highly dependable performance and calibration stability while maintaining a small form factor suited for laboratory or field applications.
R140B is an enhanced version of its predecessor —the discontinued R140 reflectometer— featuring faster measurement speeds, wider IFBW, and an improved dynamic range. It utilizes a flexible connector assembly, which includes four different port connector options (N male, female; 3.5mm male, female).
R140B VNA includes an RF measurement module and R software application which runs on Windows or Linux operating system on a PC, laptop, tablet, or x86 board computer connecting to the measurement hardware via USB interface. R software can be installed on multiple computers that share the use of the analyzer measurement module. The R140B network analyzer can be used in the field, in the laboratory, and in production testing. The VNA can be integrated into production test system via Manufacturing Test plug-in
VNAs and ACMs are delivered with factory calibration certificates containing no data. The add-on option for ISO17025/Z540-1 Accredited, Traceable Calibration Certificate and Uncertainties is available and needs to be specified at time of order.

Datasheets
The R140B is ideal for users who develop, test, and manufacture products in telecommunications (5G), semiconductor, radio navigation, aerospace, and defense industries. Relevant applications include material, cable, and antenna measurements in field, laboratory, and production testing environments.
View our Applications page to see how CMT VNAs are already extending the reach of engineers in many industries and applications.
If you want to consult with our engineers about your specific application, please Ask an Engineer.
The R140B VNAs come with all the software features engineers have come to expect, at no additional cost. Standard software features include:
Linear/logarithmic sweeps with multiple trace formats
Power sweeps
Time domain and gating conversion
Frequency offset mode
Fixture simulation (embedding/de-embedding)
16 independent channels with up to 16 traces each
Markers with marker search tools and marker math, various conversion algorithms, and limit tests for pass/fail criteria, etc.
Test Automation programming in LabView, Python, MATLAB, .NET, etc.
CMT's Manufacturing Test plugin is available to integrate the VNA into your production test system.
Datasheets
Manuals
RVNA Online Help | Download RVNA Documentation
Software
R VNA Windows Software  |  R Windows Software Release Notes  |  R VNA Linux Software
Testing Automation
Programming Examples  |  Programming Guides  |  R LabVIEW Drivers
Plug-ins