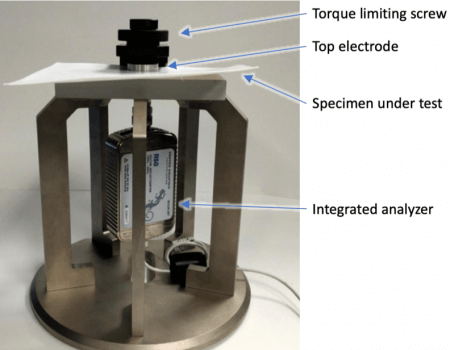 Epsilometer - Dielectric Materials Measurement
Epsilometer solution for measuring the dielectric properties of materials measures dielectric substrate materials at frequencies from 3 MHz up to 6 GHz and can accommodate sheet specimens 0.3 to 3 mm thick.
This solution uses a new methodology, according to Dr. John Schultz of Compass Technology, "Unlike previous dielectric analysis technologies, this new method uses computational electromagnetic modeling to invert the dielectric permittivity and loss. This represents a significant advance over conventional methods, which use analytical approximations and are limited to frequencies below 1 GHz."
The Epsilometer solution includes R60 VNA with software, measurement fixture, Epsilometer software, and calibration sample.
The Epsilometer solution has been developed in collaboration with Compass Technology, a leading provider of material measurement solutions and systems.
– Frequency range: 3 MHz to 6 GHz – Impedance: 50 Ohm – Sheet thickness 0.3 to 3 mm – The database is populated up to a permittivity of 25
Epsilometer can be used in design and manufacturing of microwave circuit materials, antenna radomes, antenna substrates, packaging for wireless devices – 4G/LTE, WiFi, Bluetooth, 5G, IoT, etc. – and many other applications.
If you want to consult with our engineers about your specific application, please Ask an Engineer.
Getting started with CMT VNAs
What Makes a Good VNA?
Everyone knows that a good VNA should have both excellent hardware performance and an easy to use software interface with useful post-processing capabilities. There are numerous VNAs in the market with different performance levels; some of them are economy grade, and others are truly laboratory test grade. What separates the two?