Frost & Sullivan
In 2017, Frost & Sullivan presented Copper Mountain Technologies with the 2017 Global Product Leadership Award, in recognition of the company's product excellence in this first year that USB VNAs are a separate category of test & measurement instruments.
Frost & Sullivan collaborates with clients to leverage visionary innovation that addresses global challenges and related growth opportunities. For more than 50 years, they have developed growth strategies for the global 1000, emerging businesses, the public sector, and the investment community. They work extensively in the RF Test and Measurement space.
Frost & Sullivan earlier presented Copper Mountain Technologies with the 2015 Global Competitive Strategy Innovation and Leadership Award for developing the first metrology-grade USB VNAs in the vector network analyzer category. VNAs are demanding instruments. Traditionally, they have a higher price point and larger physical size than other RF instruments (like signal generators and signal analyzers).  Frost & Sullivan noted these barriers clearly limit their use. Many customers need VNAs but don't have access to the technology because of the cost and size constraints. Customers also require strong support from their VNA suppliers but often don't receive it.
An innovator in the USB VNA market, Copper Mountain Technologies has introduced a range of solutions aligned with the growing customer requirements for less expensive, smaller, more portable, and higher performance VNAs. Frost & Sullivan concluded that Copper Mountain Technologies is well positioned with a strong and established USB VNA offering coupled with superior support, including customer service, software development, and product customization.
Download Frost & Sullivan 2017 Global Product Leadership Award report.
Global Universal Serial Bus (USB) Vector Network Analyzer Product Leadership Award
Copper Mountain Technologies received the 2017 Global Product Leadership Award for USB VNAs by Frost & Sullivan. Since this is the first year for this category, it illustrates that demand is growing for highly accurate, portable test equipment available at an affordable cost, and Copper Mountain Technologies is at the forefront of this trend for affordable and portable high-quality VNAs.
August 17, 2017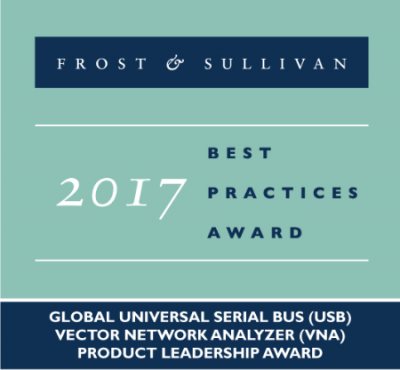 Global Vector Network Analyzer Competitive Strategy Innovation & Leadership Award
October 22, 2015