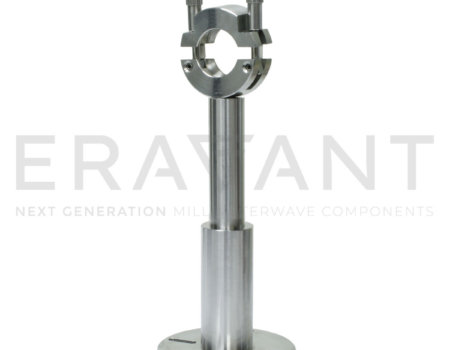 Waveguide Quick Connect with Stand
Eravant's Waveguide Quick Connect Stand is a waveguide stand to support the UG-385/U, UG-387/U, and UG-387/U-M flanged waveguide systems in the lab environment. The height of the stand is adjustable in the range of 3.2" to 4.8". The stand consists of two main parts: the waveguide quick connect with model number SWH-QC-0750C-R2, and the post/stand. The quick connect is designed and manufactured for waveguide quick connect and disconnect operations. The quick connect allows for fast mating of two flanges and clamps them easily by turning the hand screws. It is designed to be used for UG-385/U, UG-387/U, and UG-387/U-M flanges and is intended for lab or sub-assembly use where frequent connects and disconnects are encountered. In addition, it is also designed for sub-assemblies and lab setups where the waveguide flange connections are in tight spaces where there is not enough room presented for standard connections using waveguide screws. Furthermore, the quick connect provides even pressure on the flanges to make a perfect connection to reduce signal leakage due to the waveguide mis-alignment. The post/stand is for a waveguide system support. The post can be pulled off from the stand and used as an adapter for mounting the quick connect onto a tripod for antenna setups.
The model for 1.125" circular flanges, such as UG381/U and UG383/U and UG383/U-M is offered under model number SWH-QC-1125C-RS-B.
Datasheet
No content
No content