Plug-Ins
All Copper Mountain Technologies VNAs include support for executable software add-on modules or plug-ins. With plug-ins, customers and CMT support engineers can develop extensions to the base software launched from inside the main application menu. Place your executable into the /Plug-ins/ subfolder of your VNA's installation path, and then use the System->Plug-ins menu sequence to launch.
Our most popular plug-in, Manufacturing Test, supports incorporating VNA software into your manufacturing QMS:
Streamline production test processes.
Ensure consistency of test process across multiple operators and workstations.
Easily create and manage pass/fail limits across multiple workstations. Pass/fail limits and instrument configuration are stored in a human-readable plaintext "specifications" file which can be maintained by an authorized test engineer.
Organize test results for subsequent retrieval and analysis.
PCTEL's Use of the Manufacturing Plug-In
PCTEL is a well-established and highly respected manufacturer of passive and active antennas and related components. They produce a broad range of standard products, each with corresponding requirements and test procedures, these products are tested by multiple operators and test stations. So, automation of test procedures is vital to maintaining consistent product quality.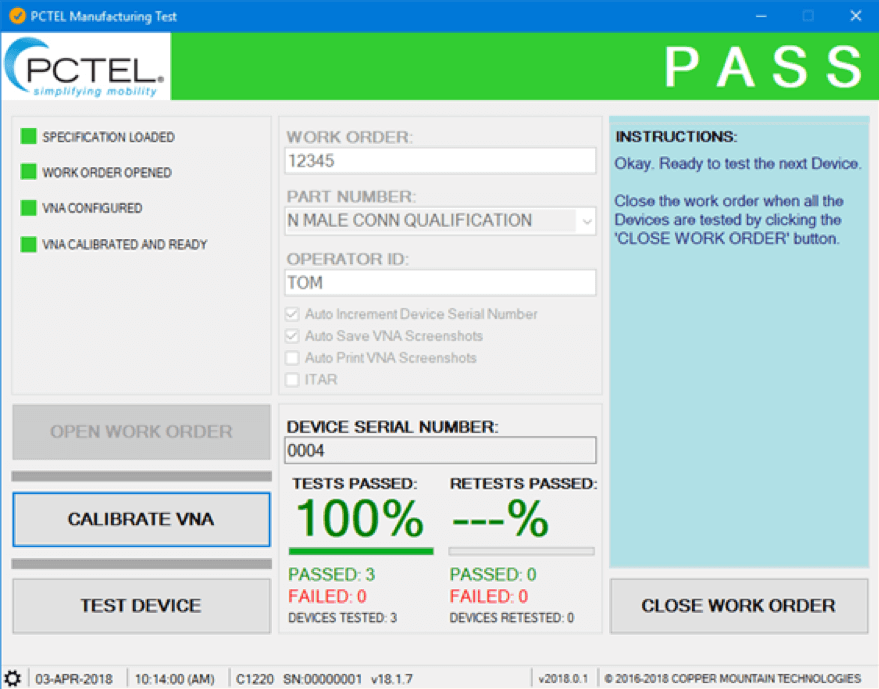 With CMT's manufacturing test plug-in, production managers at PCTEL can meet these requirements and assure the same test settings and process are applied consistently at all times. Photographs of the calibration and test process are displayed during setup to prompt the operator through each process step. After each test, results are automatically archived into a network folder for reporting and analysis. The test plug-in also allows for hard copies of the test result to be automatically printed at the time of test, so the result can be included with the product when it ships to the end customer. The test settings for each product are updated by the production manager based on similar products or a generic "template" which can be readily customized.
To discuss how we can adapt the manufacturing test plug-in to your manufacturing environment, and for pricing information please contact our sales team here.
Most plug-ins are developed based on specific customer's needs. We also offer source code for many plug-ins to help you get started with creating your own plug-ins or as a jumping off point for automation projects. Please contact our expert engineers by clicking here to discuss your specific requirements.