S-Parameter Measurements with Uncertainty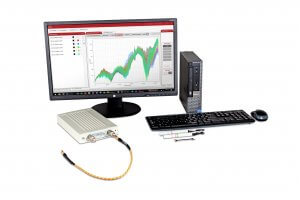 As new technologies emerge and are introduced as standards, the specifications and requirements for products get tighter, and the competitive landscape even fiercer.  This puts the responsibility on engineers and designers to squeeze out every tenth of a dB of performance, and to publish ambitious specifications.  This introduces a potential problem; how can one balance the desire to list aggressive specifications yet still have confidence that their products will meet the promised performance?  And not only performance as measured by the designer but also by the end-user, today and over time.
Scientists have been investigating the sources of uncertainty in microwave and RF measurements and have proposed models and techniques to quantify the individual contributions.   These contributions can be systematically determined and added as part of an overall S-parameters measurement.
Maury Microwave's Insight VNA calibration and S-parameter measurement software can be used with almost any Copper Mountain Technologies 2-port or 4-port VNA to calibrate, validate and measure S-parameters with uncertainty.  Individual uncertainty contributors such as the VNA, calibration kit, cable assemblies, connectors, and operator are quantified and shown real-time with the S-parameter measurements. Copper Mountain Technologies' VNAs offer some of the industry's best-in-class uncertainty and result in more accurate S-parameter measurements. This empowers a designer to report a product's performance with uncertainties, and give both designers and end-users the confidence needed to ensure product performance over time.
Copper Mountain Technologies' VNAs compatible with Maury Microwave S-Parameter Measurements with Uncertainty Solutions include: