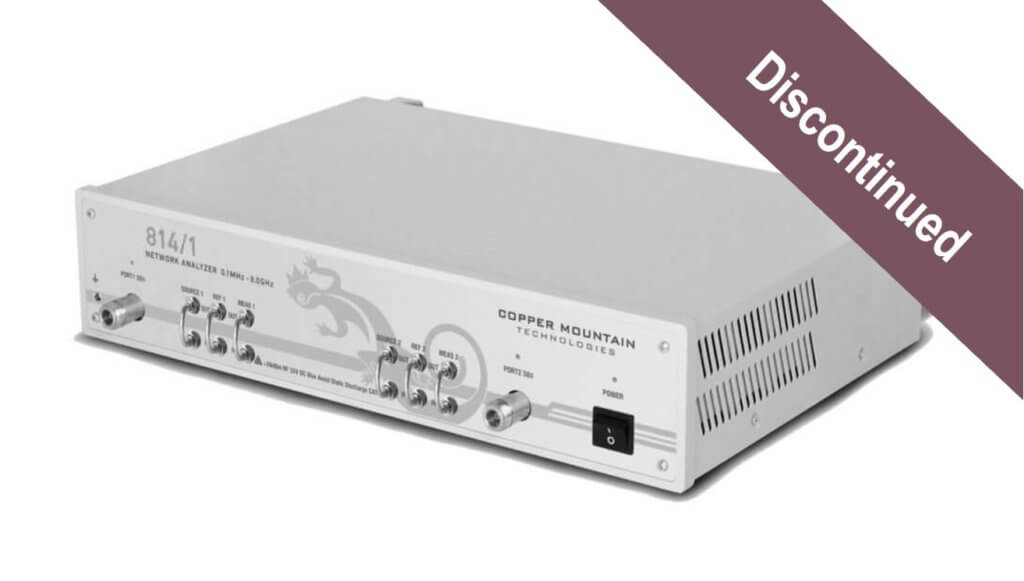 814/1 8 GHz Analyzer, Direct Receiver Access
Product
Specification
Applications
Software/Documentation
Product
Copper Mountain Technologies announced an End-of-Sale (EOS) for the 814/1. This product is no longer available for purchase as of October 1st, 2019. We will provide service and repair for this instrument for a minimum of 3 years from the purchase date and based on parts availability afterwards. The Cobalt C2209 2-Port 9 GHz analyzer is the recommended alternative for the 814/1.
The 814/1 is an 8 GHz, full-size analyzer providing lab grade performance in a 19-inch chassis, including both 2-port configuration and direct receiver access. All devices are ATE compatible, rack mountable, and easy to program and share between multiple users. This full-size analyzer is designed for operation with any Windows or Linux operating system on a PC, laptop, or tablet, or x86 board computer. The free, lightweight VNA application connects to the 814 with a standard USB cable, creating a future-proof solution that significantly enhances ease of use compared with conventional instruments.
This full-size vector network analyzer with dimensions of 12.8 x 16.3 x 3.8 (324 x 415 x 96 mm) and a weight of just 15.4 lbs (7 kg), can be used in the laboratory and in production testing, without requiring a lot of space. The VNA can be integrated into production test system via Manufacturing Test plug-in. VNAs and ACMs are delivered with factory calibration certificates containing no data. The add-on option for ISO17025/Z540-1 Accredited, Traceable Calibration Certificate and Uncertainties is available and needs to be specified at time of order.
Specification
Applications
Software/Documentation