AFR serves to simplify the measurement of a device under test (DUT) when the appropriate calibration standards are not available or there are difficulties in accessing the DUT directly (See figure below).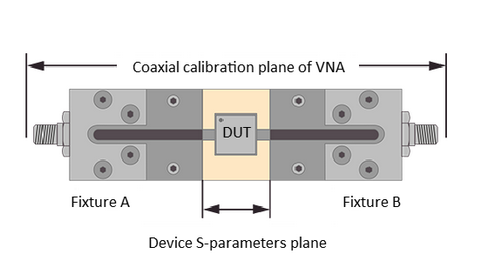 A principal challenge in making these measurements is how to correctly separate the effects of the transmission medium from parameters of the device. The AFR function removes fixture' characteristics mathematically leaving only the DUT behavior over the required frequency range. AFR is an alternative way of re-calibrating the VNA to compensate for the influence of a fixture. It helps when performing de-embedding or selecting transmission paths going up to the DUT connectors. Moreover, results obtained after AFR is applied can be also processed to investigate properties of the fixture.
Automatic Fixture Removal can be used for determining the S-parameters of:
•RF Components Installed in Non-Coaxial Fixture.
•Transmission Lines in Circuit Boards and Substrates.
•Interconnects.
There are three Automatic Fixture Removal methods: