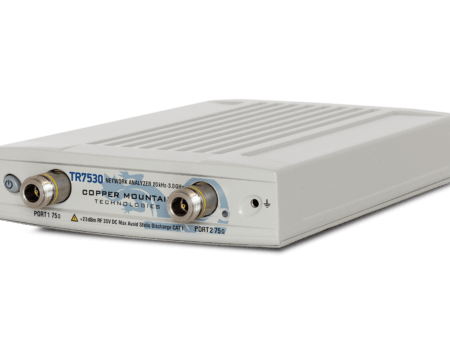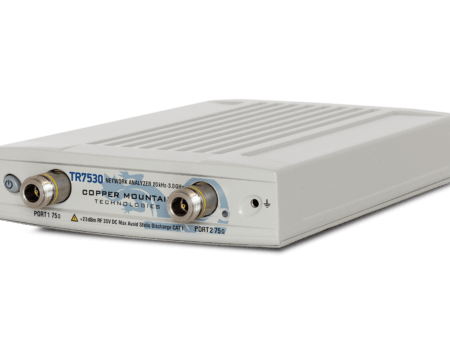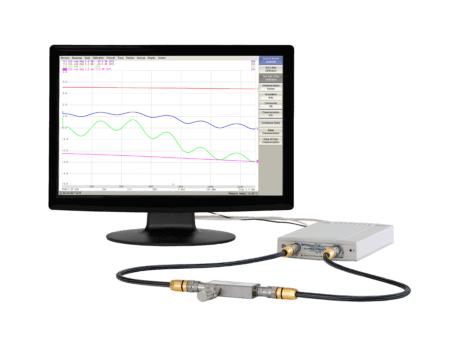 TR7530 2-Port 75 Ohm 3.0 GHz Analyzer
The TR7530 Vector Network Analyzer delivers lab grade performance in a compact package, with all the features engineers have come to expect included standard in our software.
This portable 1.3 kg/46 oz. vector network analyzer can be battery powered and used in the field, in the laboratory, and in production testing. The VNA can be integrated into a production test system via Manufacturing Test plug-in.
TR7530 VNA includes an RF measurement module and TR software application which runs on a Windows PC, laptop, or tablet, connecting to the measurement hardware via USB interface. TR software can be installed on multiple computers, making it easy to share the use of the analyzer measurement module.
VNAs and ACMs are delivered with factory calibration certificates containing no data. The add-on option for ISO17025/Z540-1 Accredited, Traceable Calibration Certificate and Uncertainties is available and needs to be specified at time of order.
- Frequency range: 20 kHz to 3 GHz
- Measured parameters: S11, S21
- Sweep types: Linear frequency, log frequency, segment, power sweep
- Dynamic range: 120 dB
- Measurement speed: 250 µs
- Impedance: 75 Ohm
Applications of the TR7530 include RF component design and testing, on-wafer probing, field testing, insertion loss measurement, distance to fault measurements, antenna matching, quality control, material measurements, and many others. The TR7530 is used particularly in the broadcasting industry where the standard line impedance is often 75 Ohms.
If you want to consult with our engineers about your specific application, please Ask an Engineer.
Our Compact VNA comes with all the features engineers have come to expect included standard in our software: linear/logarithmic sweeps with multiple trace formats, power sweeps, time domain and gating conversion, frequency offset mode, fixture simulation (embedding/de-embedding), 16 independent channels with up to 16 traces each, markers with marker search tools and marker math, various conversion algorithms, and limit tests for pass/fail criteria, etc. Test Automation programming in LabView, Python, MATLAB, .NET, etc.
Datasheets
(TR) Compact VNA Data Sheet  |  Extended Specification Sheet
Manuals
TR Programming Manual (COM)  |  TR Programming Manual (SCPI)  |  TR Operating Manual
Software
TR VNA Windows Software  |  TR Windows Software Release Notes  |  TR VNA Linux Software
Testing Automation
Programming Examples  |  Programming Guides  |  TR LABView Drivers
Getting started with CMT VNAs
What Makes a Good VNA?
Everyone knows that a good VNA should have both excellent hardware performance and an easy to use software interface with useful post-processing capabilities. There are numerous VNAs in the market with different performance levels; some of them are economy grade, and others are truly laboratory test grade. What separates the two?
The C1220 has been working exceptionally – we are very happy with it. We have used it extensively to test for losses/reflections through waveguide and coax components. It does exactly what we needed it to do.
H6 Systems Inc.